That's what it feels like. Sitting around waiting. Waiting for a vaccine. Waiting for things to calm down. We may have seasonality (think corona viruses) on our side, plus social distancing, masking and now, in the next few months I hope — vaccines.
I did get registered in Mexico, they say mid-April is when they expect to vaccinate our age group. We shall see. But numbers *are* coming down here. Too little, too late.
Did I tell you about my friend whose entire family household of four in San Miguel caught it? I think I did. Her father (80s) died a bit more than two weeks ago. Her talented, wonderful 56-year-old husband died Friday. Her mother and she are on oxygen, as are her sister and possibly daughter (who looked after them when they got sick). It's a shit show and so horrible. And I can't really talk about it, it chokes me.
Still trying to sell the script. Have had good feedback. We'll see how it goes. I did finally get google ads for Captivatist.com – please visit often, LOL. I am updating at least once a week. And like it on Pinterest and Facebook please if you would. Please, please, please 🙂
Ok, now it's Thursday the 18th, and another week has all but gone. The numbers are down in Mexico from 20,000+ new cases a day to 8,000 and occasionally less. They are rolling out some vaccines in rural areas where people have poorer access to hospitals, not that a Mexican hospital will save you.
Now it's Friday. One foot in front of the other. I'm going to make the Tik Tok sensation, Baked Feta Pasta, after our next delivery from the grocery store.
I gather you mush it all up after this stage and it looks horrid but tastes divine. I will report back. Update: we made it and it was VERY easy and tasted terrific. Just google 'feta tomato pasta bake'. We boiled the pasta separately. It's essentially a sheet pan sauce that you mix together with pasta. You could even do it on a bbq and there would be a hint of a smoky taste.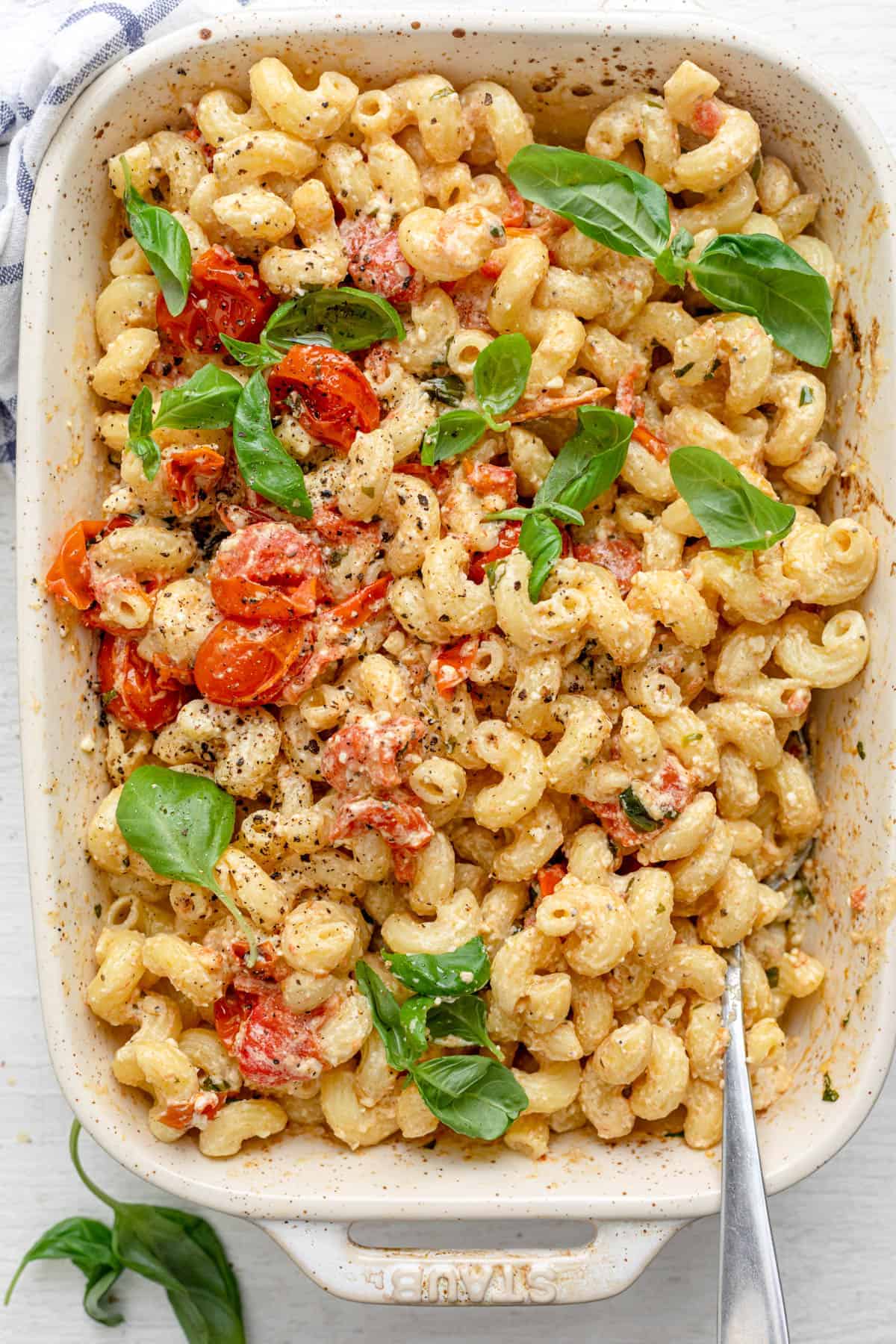 What else? PJ's being great, Rosie is still alive. She's elderly, but she's happy and has moments of playfullness. They don't see each other, of course. Different sides of the house, still. But I'm with PJ a lot and he's a happy dog. It's interesting how good a new environment was for him. Makes me happy. I am still a little leary of how he will adapt to Canada but we'll cross that bridge when we come to it.
We are planning to get home May/June – once direct flights come back. The dog trainer will house sit and dog sit PJ here (yes, we have to keep a f-cking house here for the dog) – and if Rosie is still alive she will go off with a different dog sitter. We can also send PJ to the great boarding place with webcams and lots of social interraction but I think it would be kinder to leave him with his regular routine. Once we have the island house closed (the one on pre-sale, being built) and are settled, we'll bring PJ up. We'll see how it goes. All contingent on flights to Canada by then and vaccines. Three months. Lots can change. Can't really make any firm plans yet.
Now it's Saturday. Day 344. That's almost a year, but there is a light at the end of the tunnel. I should just do PADI and get it over with. I was kinda bored last week. I had one night of monkey chatter and CW let me sleep in, I freaked when I woke up an it was 6am already. But it was nice (I go to sleep by 8:30pm so I get up at 4:30). It will change up north in the summer when we have more light, I'm sure. Rosie is the reason I actually DO get up maybe 5/7 nights but I'm asleep early so I'm usually awake and lying there meditating by the time she starts alerting us for someone to get up and let her out.
I ordered myself some flowers yesterday with the Costco order. I deserve it, right? They do make me happy. But today feels like time is standing still. I do have to come up with a Captivatist story for next week, what do you think? Aviator furniture? Are people still interested in that? (I am and want a wing dining table next.)
Yeah, yeah, that's a coffee table – but that style. We almost bought one last house but got the live edge river table instead. There are very cool desks, dressers, filing cabinets – chairs. I wouldn't do a whole house by any means but one or two discreet pieces. If it was the dining table, I think that would have to be it. But you could do dressers in a bedroom plus end tables. I wonder if they have headboards? I guess I'll find out.
What else? Geez, my life is dull. I think Mercury comes out of retrograde today but it takes a couple of weeks (maybe 10 days) until thinkgs are back to normal. Although the full moon on the 27th is supposed to be a good one.
I did plant seeds. Basil, Dill, Parsley, Sage, Cilantro and Butter Lettuce. In pots. The basil and dill are happening but I planted them a week ago. We've been down this road before, right? Last year around this time. I won't take photos yet.
We do find ourselves planning more. We'll have to keep this house until we figure out what to do with the dogs. We have to get back to close the new house. And sort things out. We'll see how things go. As long as we are vaccinated, we should be able to come back for a few months in the winter. CW may wish to come back before me – I have to stay until the end of the year.
It's easy to leave the dogs here, especially if there's only one of them by then (and only a bit harder if not). Christ, our life is complicated. But we can't go through quarantine with a dog who needs mega exercise, let alone two of them if they're both alive. The only reason Chris *has* to be there, for now, is to sign the mortgage. It's one thing we have to show up for in person. Too complex. And now they don't have direct flights until May anyway and we won't get our vaccine, I don't believe, until April.
Hey, here's some good news. The US is back in the game, back in the World Health Organization, back with a strong NATO commitment, back in the Paris Climate Accord. Thank Effing God. I often do smile spontaneously when I remember that there's a human in the white house again.
It's so nice to have that slimebag out of the news. Did you know that when Twitter kicked him off, their fake news posts went down by 73%? Both Twitter and Facebook are getting back to normal except for the Covidiots.
I'm kind of excited. I had section Five and half of section Four left to finish on my PADI (in case you weren't here for the start of it, Professional Association of Diving Instructors) – which was my first pandemic learning project. I finished four today and five is not long at all, so I hope by the end of the week and after my last exam, I have one year to complete the physical open water part of the course. So this is all great. And I feel like I've accomplished something. Well, I will feel like that by the end of the week.
Tuesday, February 23, day 347. I finished PADI – wrote my 50 question exam and passed. Now I have one year to take my open water dive. This means I'll have to get to La Paz (or somewhere with good diving) before then. I can take it anywhere in the world, apparently. I forgot a few things since I did 75% of the course some nine months ago — like 200 bar = 3,000 PSI and being underwater 20 meters makes your air three times as dense. But then I remembered how it works. Whew.
Now, what do I need to sign up to learn? Because I think we have a few months to go, minimally. Worth some thought. Not need to. What do I want to learn? I'm going to learn what I need to learn no matter what LOL.
Wednesday, February 24 (2021). Today, I wrote "good day" on my calendar after reading my monthly astrology. Hope so, I could use one. Woke up at 3am, got up at 3:45am, decidedly on the wrong side of the bed. I'm not grumpy, just discouraged (and have no real reason to be). I need to go back and see what's where and why it's a good day so I can work on that 🙂
Working on Captivatist.com pretty much every morning for an hour or so. If I ramp it up a bit, I can probably post two stories a week instead of one. I do need to get a subscription plug-in or widget so people can be notified when I post new stories. It's coming along, slowly. It gives me something to do, a schedule of sorts, it gives me writing practice and it earns growing semi-passive income. It's only semi-passive if you want it to grow. If I didn't care, I could probably leave it now and it would make small google ad money for the rest of its life but in decreasing amounts, unless you update. I don't mind, as I say – keeps me off the street.
Just got a phone call – looks like there is a buyer lined up for the condo, which isn't closed yet or ready for occupancy but they are just waiting on the city to issue permits – should be imminent. All work is done, approved, etc. some time ago. We'll close, then they will close. So that's good news. Now just a matter of time. But everything is, isn't it?
I get distressed sometimes. Overwhelmed. When I think of having to keep this place if we don't take both dogs (if they are alive) with us to Canada. It's a stupid idea but it's on the table. We can't take them when we go – we need to quarantine ourselves for 14 days (no problem) and we have nowhere to live after that yet (we can quarantine with the kids anytime and stay there if we have to but we could not manage the dogs from their studio). One of us (me?) needs to go get things set up for our own house. We are hoping by end of May or early June. No sense in planning firmly until we see how many dogs we have then – Rosie is old, I'm not being mean, I'm being logical. If it's just PJ, maybe not a big problem. After we set up the house and after vaccinations, one of us can come and get him (me).
Nothing is going on with Bitches. I screwed up one date, we only have three more left to do and we're done. All the astro clips are in, so we are set. I think we'll have 10 guests tapings then, possibly 11. Easily stretch it to 12 with an episode 0 and Bob's your uncle, that's two seasons of 6 episodes each.
I'm not overly enthusiastic about it, as you can tell. We're going to wrap the taping for now. Then, we need a producer and an editor and we will have to put our heads together and figure that out. I can get the 'Best of Boomer Bitches®" pilot edited. (And yes, we now have an ® instead of ™ — not officially but confirmed as approved!) I can even do all the best of except the last three guests and get it started. The thing is, with no consultation and no proper editor, things might not be perfect but we do what we can. I can't wait forever or the stuff will be so dated that it will be useless.
I do have a lot of hope, however, for the completely removed (from the realm of the show) t-shirts with Boomer Bitches® phrases. I ordered a sample shirt for myself. Even though I would have preferred it in red, I got black because that is always a better seller.
Soooo, our "Cozy Christmas Romance" has made it to the Christmas division of Lifetime – we'll see what they say in, I hope, a week or two. Interestingly enough, they told the producer that they were "all but done" buying for 2021 but were looking at 2022 now as well. That surprised me, but the schedule I had was for Hallmark (this producer happens to have an "in" with Lifetime). Maybe one step closer to a sale. Maybe not. It's all Snakes & Ladders.
I have another one that I've had waiting in the wings, pretty fully outlined: The Cry of a Hawk. It's one of those feel-good MOWs – for Lifetime or Hallmark but non-Christmas. I may just write it. To get to the outline stage (which I did a dozen years ago) is more than half the work. I expect it would take me two months to do the script. That would keep me off the street, too. It's another project. And no must-meet deadline, so it works.
I was about to go on a rant (it's Thursday now) about a very old friend who has gone all conspiracy theory about Covid and the Canadian government. Everyone does have things going on that we have no idea about, so it's best to be kind if you can, even if they are f-cking idiots. But, you don't need to pay attention when they go off the deep end if they are not capable of being helped back to reality. The James Gang song, Walk Away, plays in my head.
And memes are always good.
With regard to the pandemic – I read an interesting and intelligent piece in … The Intelligencer. Click on the name to read the story. Lots of reason to be hopeful but do not let your guard down yet. Oh God, now I'm listening to the James Gang Funk 49 album. I can just imagine my poor parents. LOL.
Do not fear. One song was enough memories 🙂
What else? Another week has almost gone. The weeks go by both slowly and quickly. Don't you find that? Arghhhhh. I only have the last half of the last episode of The Queen's Gambit to watch (I am late to the party). It's good, I liked it. I guess I could go back to Modern Family for a while. Or maybe there is something else. I adore Mandy Patinkin, maybe I should try Homeland. Have you seen the Patinkin family videos from their upstate NY cabin during Covid?
I watched a panel about vertical farming in Canada (Where will Canada's food come from?) and this company is pretty incredible, check them out: Local Leaf Farms. Inspiring, really. Ok. Done for today. Hasta manana, chicos.
Friday now. I clearly need something else to learn, another class to take. Or if not a class, a very organized research project for a new business in BC. One I can leave for the worst, rainiest winter months. I've ordered groceries, they will arrive between 10am and 11am tomorrow. I checked all my reports and things – the book is actually selling well through IngramSpark, too. I can't wait to get the eBook report, which you don't get until a month after the fact. Google ads are coming up a bit. Remember to please visit Captivatist.com and share on Pinterest and Facebook and with all of your friends 🙂
Ooooh, Malcolm Gladwell's writing course (Master Class) – and Gordon Ramsey's Cooking I class, plus photography (Leibowitz) – geez. I may never get this blog finished. Or Neil Degrasse Tyson! The list of instructors gets better and better. Ok, one hour of learning something every morning to start my day unless I'm on deadline. There, now I'm a happy camper. Even though I do not camp.
Ok, it's Sunday. I have little to say today – spent most of it moving Chris' office into the large and very high-ceiling, beamed living room that we never use. I'll rearrange me so I face the pool and we'll start integrating PJ back into the household. Rosie's still here, but with Chris moved out of his office, I get both rooms and it still keeps them separate. But it will take time. His office rearranged, mine next. But not until Tuesday or Wednesday.
So, that's it for me.
This video was shared with me by the friend I spoke of earlier who lost her husband and father to Covid in the time it took me to write this blog. I fear she is also losing her mother but she hasn't said. In any event, she said this gave her comfort and heart, and I listened and it gave me comfort and heart also. I hope you enjoy it.
Stay safe my friend, stay informed, stay kind.